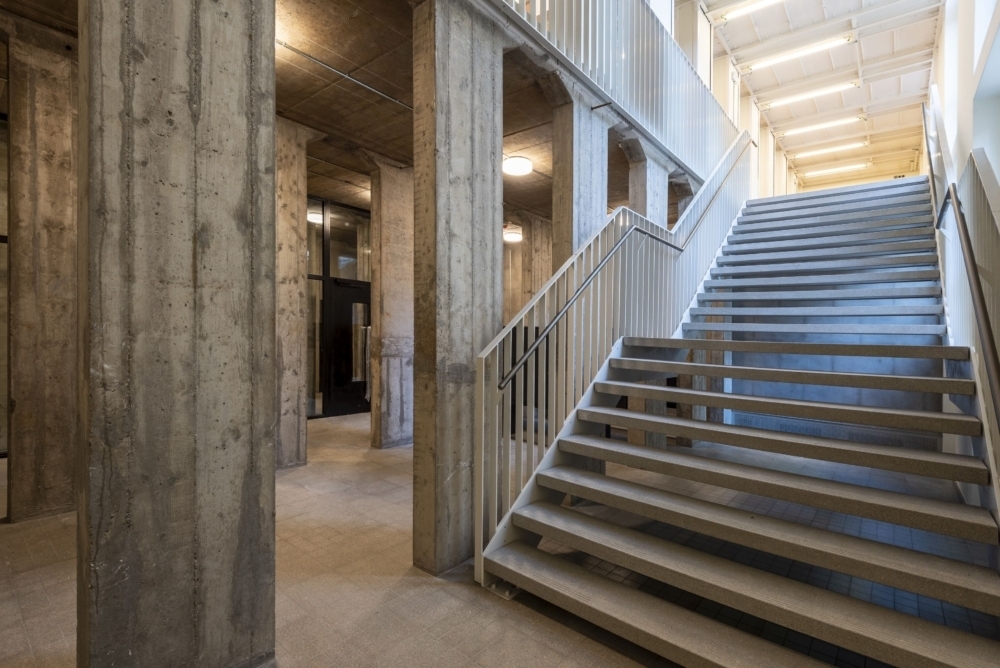 Visitor Entrance Belvedere
The Reception Area serves as a visitor's entrance and as a place where the history of the library is told.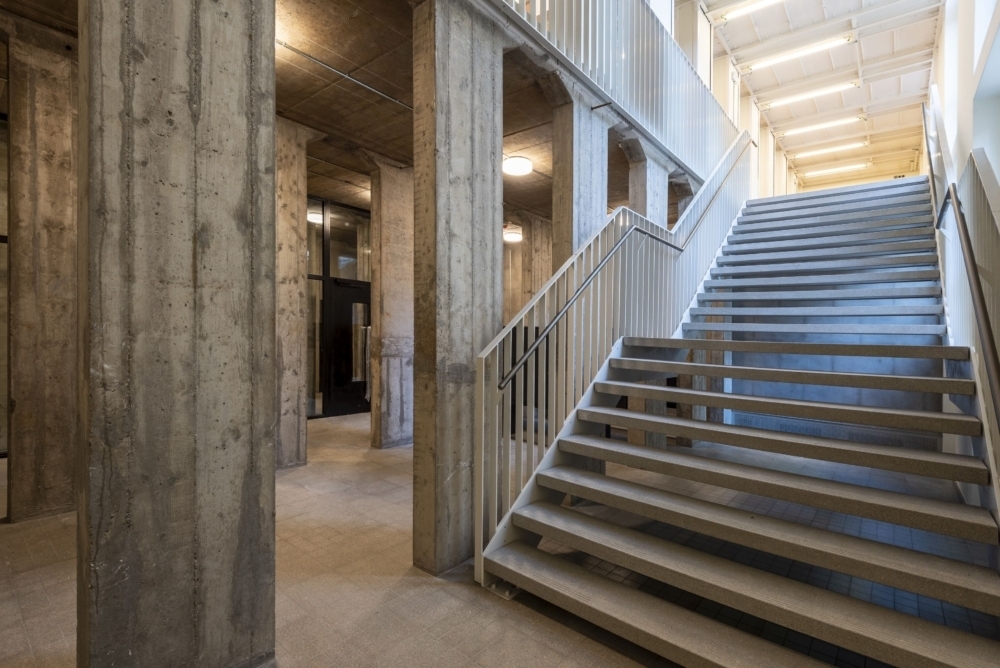 The Reception Area is located at the foot of the tower, between the Vandenhove pavilion and the university library, along the sloping, green passageway that connects the Rozier with the Blandijn. It is an old service entrance, which used to give access to the bookbinding and printing works. The small bel-étage above the passage belonged to the living quarters of the Boekentoren's concierge.
The forest of columns in the Reception Area immediately illustrates the function of the Boekentoren: like vertical buttresses the columns rise up to the twentieth floor to bear the load of two million books.
The Reception Area extends over three floors and is adorned with artwork by Berlinde de Bruyckere.
History of the Boekentoren
At sixty-four metres, the tower is iconic. At the end of the 1930s, there was already talk of a 'symbolic fire beacon' towering over the city. Van de Velde had deliberately aimed for a monumental impression with his design. Its architecture expressed the metaphor of a 'book tower' and catapulted itself into the city space, as a beacon of science and knowledge. In Ghent, the Boekentoren is therefore called the fourth tower, next to Sint-Baafs, Sint-Niklaas and Belfort.
The contract to build a new university library was awarded in April 1933. Henry van de Velde had just turned seventy at the time. Although the structural work had already been completed before the Second World War and the library opened on 15 October 1942, the completion of the Boekentoren extended into the 1950s. The last coats of paint were not applied until 1960, and many of van de Velde's interior designs were never realised. The adjacent faculty building, the Blandijn, should have been part of the Boekentoren complex. However, van de Velde's designs were set aside and finally shelved in 1954.
During World War II, German troops occupied the newly completed tower. It became a lookout post, including anti-aircraft fire, while a shell impact in the night of 6 to 7 September 1944 caused damage. After the war, the building became an attraction, and its Belvedere in particular has acquired renown. Because of everything that has happened and who had associated themselves with the tower, it has become a mythical place at the highest point of the city.
Read more about the library's history in Towers of Books.
Book your Belvedere visit at boekentoren.gent.